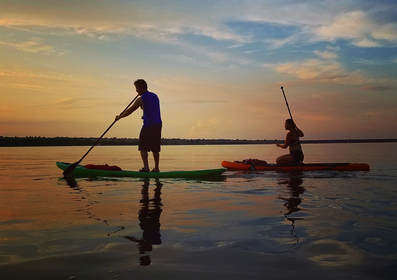 Mountain Glow Paddle at Chatfield Reservoir outings can be booked as private outings any day of the week, based on availability.
Please allow 24 hours advanced notice for private outings.
Please call (303)472-3355 for details on private outings
Reservation policy: Payment in full is required to reserve your spot on an outing. Cancellations made less than 72 hours in advance will receive no refund or credit. Outings cancelled at company's discretion will receive a full refund or credit.
---
Mountain Glow Paddle at Chatfield Reservoir
2019 Outing Dates: 6/1, 6/8, 6/22, 6/29, 7/13, 7/20, 7/27, 8/3, 8/10, 8/24, 9/7
Join us every other Saturday for a Mountain Glow paddle at Chatfield Reservoir. Our group will set off from the swim beach as the sun begins to set. We will paddle around the reservoir as the sun sinks below the mountains, and will end back at the swim beach as stars begin to dot the evening sky. Please arrive at 6:30 pm, outing will launch at 7:00 pm and will arrive back around 9:00 pm. Reservations are required for this outing, please call (303)472-3355 to reserve your spot!
Cost:$25/person,
paddle boards, single kayaks, and tandem kayaks are available, all participants will be provided with a glowing illumination device to light the night!
Book Now
This outing can be booked as a private outing any day of the week. Please call for availability.4 person minimum for private outings
Scenic Sunset Paddle at Sloan's Lake
2019 Outing Dates: 5/24, 5/31, 6/6, 6/14, 6/20, 6/28, 7/11, 7/18, 7/25, 8/1, 8/9, 8/15, 8/22, 8/30, 9/5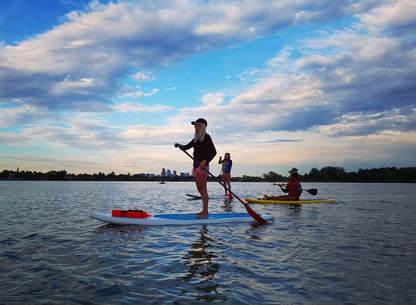 Join us weekly (usually Thursday or Friday) beginning 5/24/19 for a sunset paddle outing at Sloan's Lake. Enjoy a relaxed paddle while taking in the view of the Rocky Mountains under the glow of the sunset! Please arrive a half hour before launch time, outing will launch at from the boat launch area at Sloan's Lake Park and will return at approximately 1.5 hours after launch time. Reservations are required for this outing, please call (303)472-3355 to make your reservation. Please note that the launch time changes throughout the season (early summer launches at 6:30 pm, by the end of summer that changes to about 5:15 pm), your reservation email will contain the exact launch time.
Cost:
There is no cost for Denver Paddle Club members with their own equipment and 2019 DPR permit
Not a member? You can still join the outing!
$15/person
for nonmembers wishing to rent equipment for the outing. Paddle boards, single kayaks, and tandem kayaks are available for rental.
Book Now
---
Pikes Peak Paddle
Take in the views of America's Mountain, Pikes Peak by Paddle!
7/17, 7/26, 8/7, 8/23
This outing can also be booked as a private outing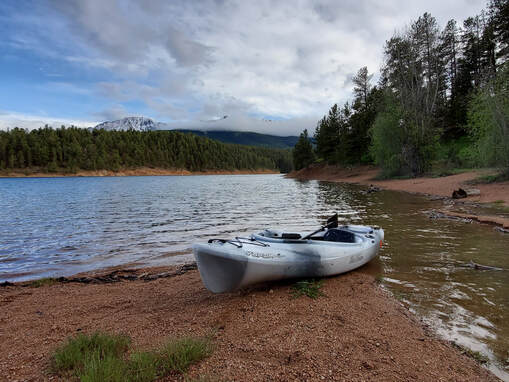 Our day of Rocky Mountain exploration will begin in the North Slope Recreation area of Pikes Peak. Nestled alongside Pikes Peak Highway, the gleaming waters of North and South Catamount Reservoirs are the perfect setting for an escape from the day to day routine. At an elevation of 9,200 feet, these non-motorized craft only lakes offer ample solitude for a relaxing, pleasantly smooth, sightseeing paddle trip. Our paddle will be an exploration or the many inlets and coves of the shoreline, each turn offering a new view of Pikes Peak.

After our paddle, we will continue along Pikes Peak Highway, all the way to the 14,115 foot summit! Along the way, we may just spot some of the area's extensive and varied wildlife, including elk, bear, mountain lions, deer, pika, and bighorn sheep.
​
Cost: $115/person. Single kayaks, tandem kayaks, and paddle boards available. Cost includes Pikes Peak entrance fee and carpooling.

Outing meets at our office location at 7:00 am. Please plan to bring lunch, sunscreen, towel, light jacket, and water. Outing will return to Denver in the afternoon. The exact trip length will be up to the desires of the group.



---